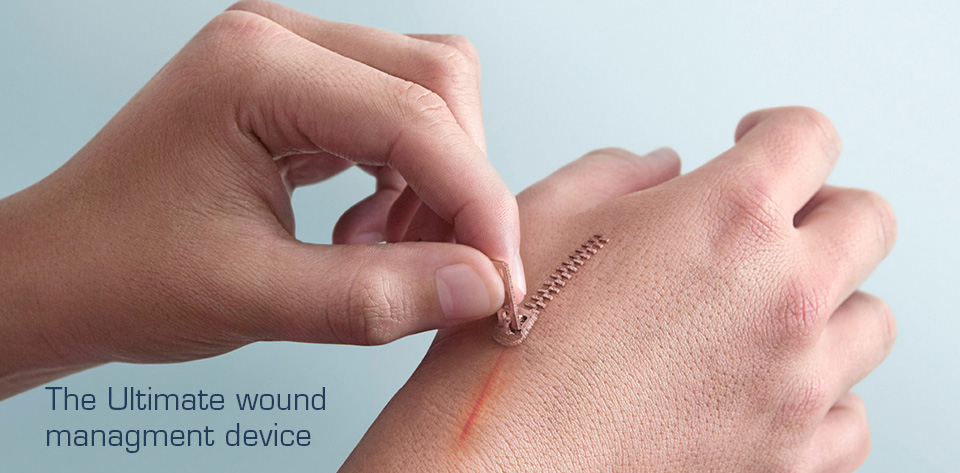 The ultimate wound management device.
Nanoskin® is a novel Biotechnology and unique device indicated for wound treatment, diabetic foot ulcer, drug delivery applications. Nanoskin® fulfills an urgent unmet medical need for the treatment (and prevention) of complex chronic wounds.
The main aim of Nanoskin is to:
Improve patient's life quality
Accelerate chronic wound healing
Reduce healthcare costs.
What is Nanoskin®
Nanoskin is a patented, 100% natural biological film that is the result of years of research in bio-nano-technology.It is a fiber scaffold of nanometric size, with physical and mechanical properties that dramatically accelerates wound healing.
How does Nanoskin® work?
• Isolation of the exposed nerve terminals, resulting in immediate pain relief.
• Direct contact of the membrane with the wounded bed in order to promote new skin development.
• Maintenance of a wet wounded bed, accelerating the healing process.
• Allowing efficient oxygen/nitrogen exchange within the wounded area, thus preventing infection by pathogens .
• promoting tissue orientation for the epidermis and accelerating the healing process.
Nanoskin® - Main Characteristics
- 100 % natural
- Biocompatible and non-allergenic
- No adverse reactions
- No sensation of pain
- Perfect occlusion of the wounded area
Not permeable to external liquids and contaminants
Natural antibacterial barrier
Quick reduction of the wounded area .
Advantages to the use of Nanoskin® :
• Easy application and adaptation to the wound bed;
• Protection and acceleration of the healing process;
• Absence of adverse reactions;
• Pain soothing characteristics;
• Comfort to the patient;
• Easy drainage of secretions;
• Visualization and evolution control of the lesion;
• Maintenance of the physiologic moisture between the wound bed and the membrane;
• Occurrence of gas exchanges;
• Lower treatment cost.
Target therapies
• Skin/ dermal burns;
• Dermal abrasions;
• Excoriations;
• Skin grafting sites, donators and receptors;
• Nail beds (after nail exeresis);
• Diabetic ulcers;
• Venous ulcers;
• Arterial ulcers;
• Pressure ulcers;
• Perforating plantar disease;
• Infected surgical wounds;
• Decubitus Ulcers;
• Post physical cauterization (cryotherapy, thermal cauterization, CO2 laser and Erbium);
• Epidermolysis Bullous
Nanoskin® offers an innovative and effective solution to a serious medical and social problem. To promote rapid healing in lesions caused by burns, ulcers of the lower limbs, or any other condition in which there is epidermal or dermal loss.
Download Nanoskin Membrane Brochure


NANOSKIN® Membrane Certificates